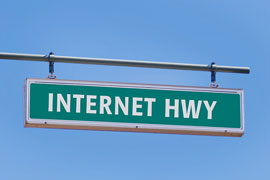 Promoting A Website
Web site promotion is the art and science of bringing interested visitors to your web site. You can have the most aesthetically pleasing, well-designed, functional website in the world, and it still won't draw the amount of visitors it deserves if you don't promote it. One of the greatest myths surrounding web traffic is that it's luck, or that you have to know certain tricks or secrets in order to drive traffic to your site.

But nothing could be farther from the truth. There is no magic to website traffic. With the right plan, and by following a set of tried-and-true laws and principles, it's easy to promote your website and ramp up traffic.

Once you've ensured that your website is well-designed, attractive, and easy to use, the next step is to ensure that targeted traffic ends up there.
Search Engine and Directory Submissions
One way to ensure that traffic comes to your site is to use search engines, which are basically electronic Internet services that allow their users to search the web and other databases for links to websites. SubmitWizard, a URL submitter, efficiently registers your web site URL(s) with the Internet's top search engines, including Google and Bing. And you can ask it to resubmit your URL(s) automatically, on a periodic basis. For faster inclusion into the major search engine indices, consider using the search engine marketing services offered by Position Technologies.
Pay Per Click Advertising
But it often takes time to achieve good listing positions in the organic search engine results. One of the best strategies for generating web site traffic quickly is pay-per-click ad campaigns, such as Google's AdWords. These campaigns allow you to put an ad on search results pages for specific search terms. Every time someone accesses you website from the search results page, you pay the search engine a certain amount. This Pay Per Click search engines and tools web site reviews additional pay-per-click search engines and services which can help you to quickly and efficiently bring targeted traffic to your site.
Links to your Website
Another great way to bring traffic to your site is to set up an e-mail signature. An email signature puts your name, contact information, and an active link to your website at the end of every email you send, ensuring that all recipients can easily access it.
Accepting a little help from others is also key. You can't drive the amount of traffic you want or need to your site all by yourself. Linking your site to other websites is one of the best ways to spread that news about all that your website has to offer. There are two kinds of links: inbound and outbound. Inbound links are one-way hyperlinks from another website to yours, while outbound links are one-way links from your site to others.
Writing and posting articles will also increase website traffic, and is a great way to move on up the ranks on the search engines. Stick to subjects related to your site, and submit to sites that are in some way connected to your offerings. Press releases and e-zines will also drive traffic to your site. The PRWeb press release service is a good place to start your public relations campaign.
Connecting with others who are interested in your products and services is another way to promote your website. Look for discussion groups, forums, and chat boards that are a good fit. While in most situations it's not okay to advertise, it is okay to include your signature file at the end of each post.
Affiliate Programs
Finally, participate in affiliate programs such as Commission Junction and LinkShare. These programs allow you to recruit, support, and compensate other people for selling your products and services. As an affiliate program owner, you allow people to post your website's information on their sites, and pay them a commission every time a product or service is sold as a result.
Conclusion
Remember, building website traffic takes patience and action. While it may take a little time to see the desired results, following the rules and principles of building website traffic is sure to yield positive results.
---
Copyright © Zeducorp. All rights reserved.
Guide to Web Site Promotion Tools