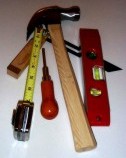 The website development process is fairly straitforward for a simple, static website, but more complex websites can often benefit from the use of website development tools. These web site tools can streamline the process of designing, coding, and promoting a website. They can also provide methods for visitors to interact with a website and for webmasters to monitor visitor activity.

Hosted web site tools are a convenient means to enhance your website's visitor appeal, track and analyze its traffic and performance, and notify major search engines and directories of its existence. These powerful, cost-effective tools are easy to install and use — and they require no distracting banners or ad buttons on your site.

The design and interactivity tools include a message board and a guestbook, as well as a pollster and audio avatars, all designed for compatibility with popular browsers such as Google Chrome, Microsoft Internet Explorer, and Mozilla Firefox. The tracking and monitoring tools include a hit counter, a traffic analyzer, and a host monitor. Last, but not least, the URL submitter is a convenient and cost effective site promotion tool. All in all, these popular tools can go a long way toward making your site a success.

To learn more about each of these popular web site tools, use the links shown above. And don't forget to try our free color tool, HTML Colors, which enables you to test the 216 'safe' HTML colors with various browsers and display settings. You can use its movable, resizable, color swatches to experiment with various web page color schemes and layouts.
Related Webmaster Resources
---
Web Site Tools - Website Tools